PRESS RELEASE | IP and Moro bring self-determination and ancestral land issues to International People's Tribunal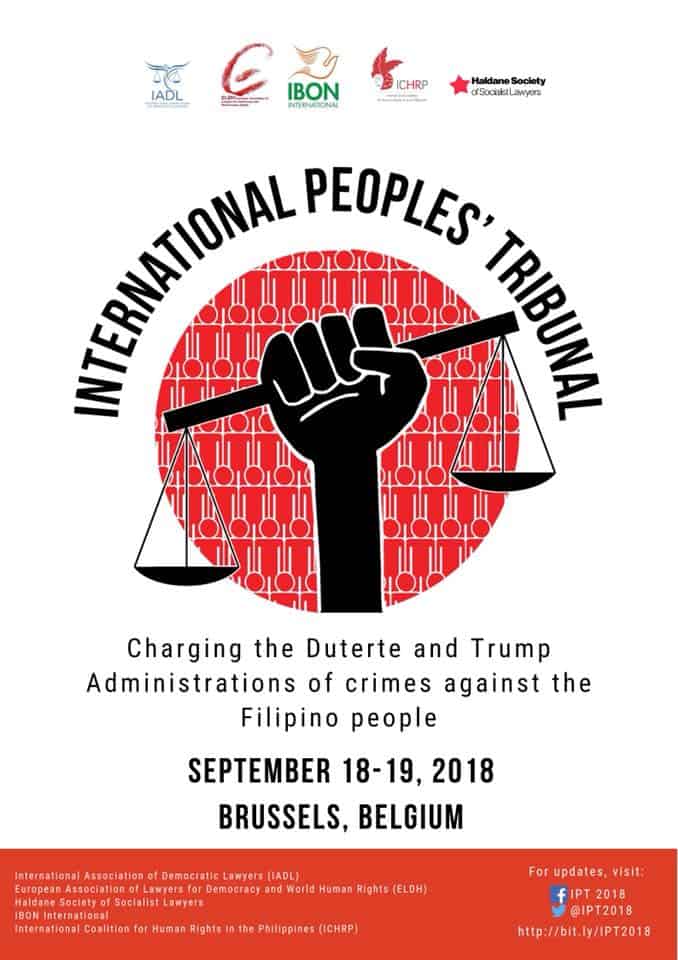 Philippine indigenous peoples (IP) and the Moro people will have heard in the International People's Tribunal (IPT) 2018 cases of violation to ancestral land and right to self-determination this week in Brussels, Belgium. Represented by their organisations KATRIBU Kalipunan ng Katutubong Mamamayan ng Pilipinas (KATRIBU), Suara Bangsamoro, Cordillera Peoples Alliance (CPA) and the International Indigenous People's Movement for Self-Determination and Liberation (IPMSDL), particular cases will be heard during the IPT.
The IPT 2018 is organised in the context of the worsening situation of human rights in the Philippines under the Duterte regime. Philippine human rights group KARAPATAN (Alliance for the Advancement of People's Rights), has documented 126 extrajudicial killings (EJKs), 235 frustrated EJKs, 272 illegal arrests and detention, 930 illegal arrest without detention, 426,590 victims of forced evacuation, 39,623 cases of use of public places for military purposes, 362,355 incidents of indiscriminate firing from July 2016 to December 2017.
These figures do not include the unprecedented number of killings as a result of the administration's supposed anti-drug war Tokhang now estimated to be at least 10,000. While Philippine National Police (PNP) spokesperson Chief Superintendent Dionardo Carlos denies that there are extrajudicial killings under the Duterte administration, the PNP reported that there had been 6,225 drug-related deaths between July 2016 and September 2017. Furthermore, the PNP released a report that as of April 23, 2017, 7,080 people had been reported as killed in the "War On Drugs" since July 1, 2016. The victims of this bloody campaign are largely poor people, including minors and youth.
Well-documented cases of these human rights violations have been brought to the attention of the United Nations Human Rights Council (UNHRC) by several concerned Philippines-based and international civil society organizations through the Universal Periodic Review on the Philippines (UPR) process in Geneva in 2017 and the Special Procedure mechanisms. A number of national and international entities have likewise conducted fact-finding solidarity missions and have issued reports, recommendations and condemnations of the Philippine government's inaction to stop the killings and other serious human rights violations in the country.
In the case of indigenous peoples, exercise of the right to self-determination and right to resist has been met as well with State terrorism and fascism. KATRIBU has documented 27 incidents of bombing of indigenous communities affecting at least 354,000 individuals, 47 extrajudicial killings of IP human rights defenders (IPHRDs), 58 incidents of forced evacuation affecting 400,000 individuals, and the attacks on Lumad schools in Mindanao that forced 56 schools to close and at least 2,600 indigenous youth affected. Over 100 fabricated cases are filed by the State armed forces and police against IPHRDs, including the Department of Justice (DoJ) terrorist proscription list that names some 600 individuals.
The regime´s crimes against the Moro people will also be heard in the IPT 2018, to include the Marawi siege and declaration of Martial Law in Mindanao, the religious discrimination, arbitrary detention and torture committed against Suara Bangasamoro Chairperson Jerome Succor Aba by agents of US Department of Homeland Security (DHS) and US Customs and Border Patrol (CBP) on April 17-19, 2018; and the massacre of seven Tausug youths on September 14, 2018 in Patikul, Sulu.
These victims of human rights violations under the US-Duterte regime are seeking justice. They have organized themselves and are working closely with various organizations in strengthening efforts to hold perpetrators to account, and it is at their behest that the IPT 2018 is being convened by the European Association of Lawyers for Democracy and World Human Rights (ELDH), Haldane Society of Socialist Lawyers, International Association of Democratic Lawyers (IADL), IBON International, and the International Coalition for Human Rights in the Philippines (ICHRP).
Victims, survivors of attacks and experts shall present concrete evidence of violations of the Filipino people's individual and collective rights under international law. They hope to raise the awareness of the international public of the ongoing violation of peoples' rights in the Philippines, and help generate further political pressure on the governments of the Philippines and the US to heed the calls of the Filipino people. The perpetrators will be brought for judgment before the broadest possible international audience.
The Tribunal's verdict shall be based on a thorough and fair assessment of the evidence by a body of jurors composed of leading public figures of recognized achievement and high moral stature, in accordance with applicable legal standards. The body of evidence and verdict of the IPT 2018 shall be transmitted to the United Nations, International Criminal Court, various Parliaments and governments, as well as broad international organizations. The IPT 2018 shall serve due notice to the perpetrators of these violations that impunity shall not go unchallenged by the people.
_
Beverly Longid, IPMSDL Global Coordinator, info@ipmsdl.org
Pya Malayao, KATRIBU Secretary General, katribu.phils@gmail.com