On the 55th Anniversary of the New York Agreement: MERDEKA FOR WEST PAPUA!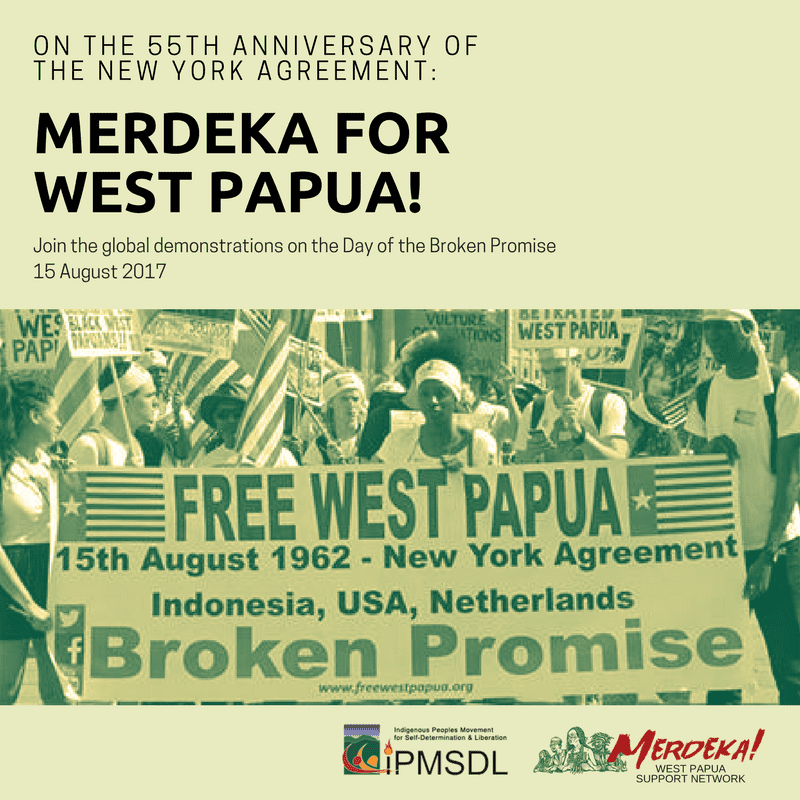 On the 55th year of the "Broken Promise," the Indigenous Peoples Movement for Self-Determination and Liberation (IPMSDL) and the Merdeka West Papua Support Network reiterate the call to free West Papua. We demand to allow the peoples of West Papua to vote for their independence, which was guaranteed by the New York Agreement of 15 August 1962.
The Papuans' "act of free choice" never took place. We refuse to recognize the US imperialist-backed bogus referendum of 1969. The landmark agreement only officiated the turnover of West Papua's colonization from the Kingdom of the Netherlands to Indonesia.
This historical betrayal has led to the renewed national oppression and subjugation of West Papua. Its peoples only experienced extreme repression and genocide under the Indonesian colonial rule, whilst the riches of their ancestral lands are plundered. The government of Indonesia never fulfilled its "administrative responsibility" mandated by the agreement to advance the social, cultural, and economic development of West Papua.
The Papuans suffered from this grave injustice for more than half a century, and we say enough. It is time: Merdeka for West Papua!
We call the United Nations (UN) to fulfill its obligation to end colonialism and internationally facilitate a genuine referendum on independence among the peoples of West Papua. We also demand the UN to look into and act upon the widespread human rights violations in and territorial degradation of West Papua. The Indonesia government should be held accountable for its transgressions against the Papuan peoples.
Let us show our fervent support and solidarity to the global demonstration today, 15 August 2017, at London and in other parts of the world in commemoration of the "Day of Broken Promise." Together, let us stand for West Papua's self-determination and liberation.
MERDEKA FOR WEST PAPUA!
STRUGGLE FOR THE PAPUAN PEOPLES' SELF-DETERMINATION AND LIBERATION!
US IMPERIALIST AND INDONESIA, OUT OF WEST PAPUA!
END THE COLONIZATION, OCCUPATION, SEVERE REPRESSION, AND GENOCIDE IN WEST PAPUA!
LONG LIVE THE PEOPLES OF WEST PAPUA!
#LetWestPapuaVote #BackTheSwim #FreeWestPapua
Let us also express our solidarity through this global petition addressed to the UN. These names will be delivered at the end of this month in Geneva after being swum 69 km across Lake Geneva by the Swim for West Papua team.