On the 2017 International Day of the World's Indigenous People
Advance the Indigenous Peoples' movement to greater heights!
Strengthen our solidarity for self-determination and liberation!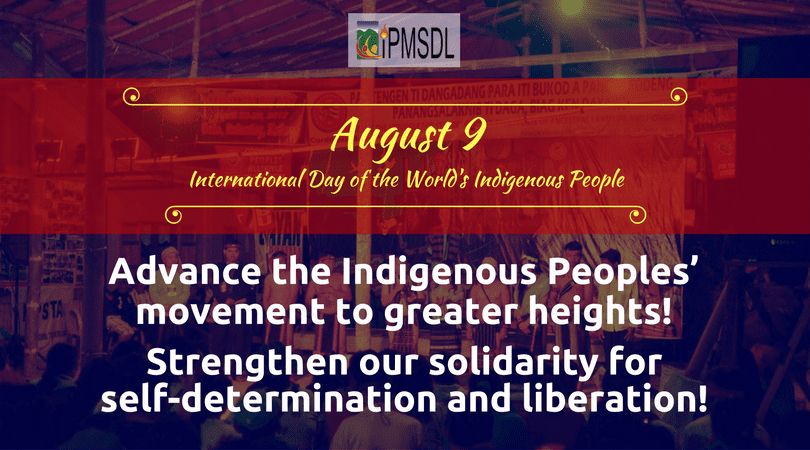 As we commemorate the International Day of the World's Indigenous People, the Indigenous Peoples Movement for Self-Determination and Liberation (IPMSDL) challenges all Indigenous Peoples of the world to raise the ante of our campaigns and struggles for self-determination and liberation.
Discrimination, exclusion, poverty, and human rights violations plague our communities as governments and corporations cope with the global crisis through the seizure of our ancestral lands to plunder its riches.
Warring imperialist states have intensified foreign intervention especially of developing nations in order to preserve power amid worldwide economic depression. They make use of military offensives and deceptive political-economic arrangements sugarcoated as aid and development partnerships to impose their might over target territories. The United States, in particular, is using its "war on terror" to profit and get at par with rising superpowers China and Russia, whose international influence is gaining momentum.
This aggression has led to the heightening repression and militarism in marginalized communities including IP. We have witnessed the demolition of our homes, violations of rights, and erosion of identities as governments prioritize support of imperialist interests. Our children encounter threats and harassments more than the uplift of our well-being. Perpetrators point their guns at us; we live in tension and fear.
But that should not be the case. To claim this day as ours is to assert our distinct growth and freedom – in our terms, to our prosperity.
It is thus timely, more than ever, to expand our movement for self-determination and liberation in order to defeat all attempts to our marginalization and oppression. The difficult times attest the greater necessity of building the unity between and among Indigenous Peoples. We should arouse, organize, and mobilize our ranks as we consolidate our solidarity with non-IP allies to broaden our efforts and step up our battles for our lands and lives.
Let us take inspiration of the bravery and determination of fellow IP who scored feats in their respective historic disputes this year. In Africa, the Ogiek people in Kenya regained their legal rights over their ancestral Mau Forest after the continental Court on Human and People's Rights ruled to their favor – a decade's worth of arduous struggle (1). The same goes for the Júba Wajiín people of Mexico, with the federal court granting them judicial protection from government-conceded mining projects at the mountain region of Guerrero state (2).
We should also embody the same resolve of other IP groups who relentlessly carry on despite the odds. The people of West Papua are advancing their struggle for self-determination and liberation with a successfully concluded study conference in March. Meanwhile, Indigenous Peoples of the Philippines are embarking on another Lakbayan to the country's capital to call the end of their communities' militarization brought by Martial Law – notwithstanding the president's threat to bomb their schools.
IPMSDL believes that through our collective struggle, greater victories are ours!
_______________________
(1) http://www.aljazeera.com/…/kenya-ogiek-win-land-case-govern…
(2) http://earthfirstjournal.org/…/juba-wajiin-community-prote…/
Reference: Beverly Longid, Global Coordinator, info@ipmsdl.org