On Nasako Besingi's Arrest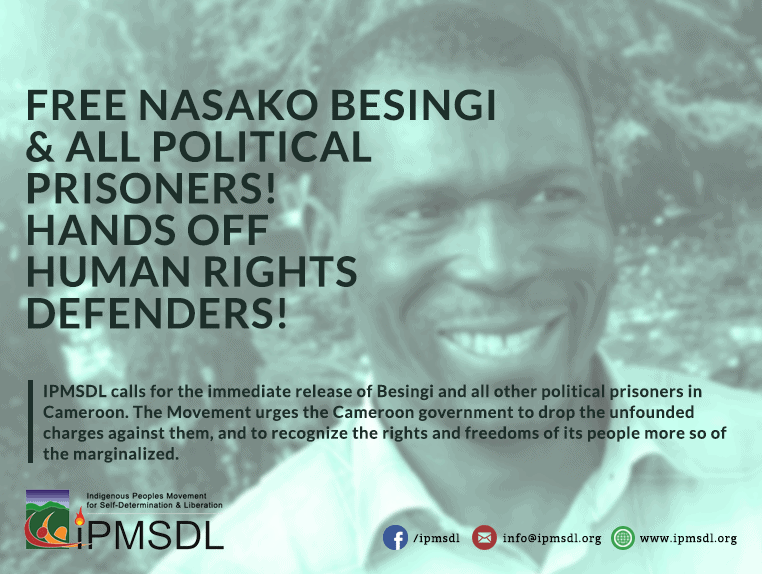 The International Indigenous People's Movement for Self-Determination and Liberation (IPMSDL) condemns the Cameroon government for the arbitrary arrest and detention of environmental activist and human rights defender Nasako Besingi of Cameroon, Central Africa.
On 25 September 2017, authorities arrested Besingi and raided his office in Mundemba, Ndian Division due to undisclosed charges. He was kept out of contact until the Buea Military Tribunal's questioning on 28 September 2017. The court accused Besingi of insurrection and secession, and ruled his imprisonment at the Buea Central Prison while the preliminary investigation is still ongoing.
Besingi, the executive director of Struggle to Economize Future Environment (SEFE), is known for leading the fight against the land grabbing of Herakles Farms, an American agribusiness company. The company is developing a 20,000-hectare palm oil project that is situated in the Congo basin, the world's second-largest rainforested area and where Mundemba lies.
Nasako Besingi is just one of many environmental and human rights activists unlawfully arrested in different parts of the world.
In Agusan del Sur, Philippines, rural missionaries staff Julito Otacan and five other Banwaon human rights defenders were arrested in the morning of 27 October 2017. Otacan is a field worker of the project, Protecting and Promoting Indigenous Human Rights in the Philippines, organizing and facilitating the training of community members as human rights defenders, while the other five are members of Tagdumahan – a Banwaon Peoples' Organization that has long been targeted by the military because of their vocal assertion of their rights to the Banwaon's ancestral domain targeted by logging and mining companies.
In Sabah, Malaysia, Atama Katama and SM Muthu are being demanded to pay 340,000 USD aside from facing possible detention for defamation against Dr. Herman James Luping, a former Deputy Chief Minister of Sabah as a consequence of speaking out on Luping's controversial appointment to the Royal Commission of Inquiry.
IPMSDL calls for the immediate release of Besingi and all other political prisoners all over the world. The Movement urges the Cameroon government to drop the unfounded charges against Nasako, and to recognize the rights and freedoms of its people more so of the marginalized. Let the English-speaking regions exercise their constitutionally granted independence and autonomy, in respect of their cultural origins and their right to self-determination, instead of wielding political repression that only worsens the social unrest.
FREE NASAKO BESINGI! FREE ALL POLITICAL PRISONERS!
STOP THE DISCRIMINATION AND POLITICAL REPRESSION AGAINST THE ENGLISH CAMEROONIANS!
UPHOLD THE RIGHT TO FREEDOM OF EXPRESSION AND COLLECTIVE ASSEMBLY!
HANDS OFF HUMAN RIGHTS DEFENDERS!