AUGUST 9: GLOBAL DAY OF ACTION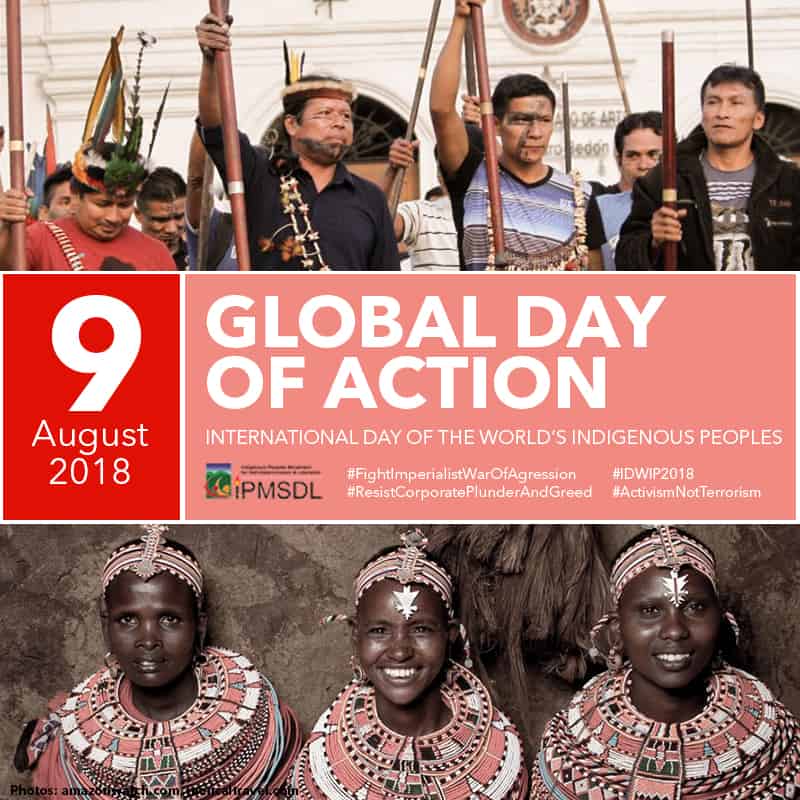 AUGUST 9: GLOBAL DAY OF ACTION
On August 9, we call on everyone to the GLOBAL DAY OF ACTION to celebrate and stand for the continuing struggle and victories of Indigenous Peoples (IP) in different parts of the world against imperialist assaults on IP rights to self-determination. In this year's commemoration of the INTERNATIONAL DAY OF THE WORLD'S INDIGENOUS PEOPLES, let us unite and highlight the struggles and victories of Indigenous communities against the intensifying resource exploitation of transnational corporations (TNCs), war and militarization, and the worsening human rights situation attacking IP rights defenders and the collective action in defense of land, territory, and way of life. Together, we will amplify the voices and demands of Indigenous Peoples for the right to self-determination. Let us strengthen our solidarity and broad unity among and between Indigenous communities and all oppressed peoples! Long live the struggle of Indigenous Peoples to self-determination!
_
9 DE AGOSTO: DÍA MUNDIAL DE ACCIÓN
El 9 de agosto, llamamos a todos a la JORNADA MUNDIAL DE ACCIÓN para celebrar y defender la lucha y las victorias continuas de los Pueblos Indígenas en diferentes partes del mundo contra los ataques imperialistas a los derechos de PI a la libre determinación. En la conmemoración de este año del DÍA INTERNACIONAL DE LOS INDÍGENAS DEL MUNDO, unámonos y destaquemos las luchas y victorias de las comunidades indígenas contra la intensificación de la explotación de los recursos de las empresas transnacionales (ETN), la guerra y la militarización, y el empeoramiento de la situación de los derechos humanos que ataca a los defensores de los derechos de PI y la acción colectiva en defensa de la tierra, el territorio y el modo de vida. Juntos, amplificaremos las voces y demandas de los Pueblos Indígenas por el derecho a la libre determinación. Fortalezcamos nuestra solidaridad y nuestra amplia unidad entre las comunidades indígenas y todos los pueblos oprimidos! Viva la lucha de los Pueblos Indígenas por la autodeterminación!
(Traducción realizada con el traductor www.DeepL.com/Translator)
_
9 AOÛT : JOURNÉE MONDIALE D'ACTION
Le 9 août, nous appelons tout le monde à la JOURNÉE MONDIALE D'ACTION pour célébrer et défendre la lutte continue et les victoires des peuples autochtones dans différentes parties du monde contre les assauts impérialistes sur la PI à l'autodétermination. Dans la commémoration de cette année de la JOURNÉE INTERNATIONALE DES PERSONNES AUTOCHTONES DU MONDE, unissons-nous et soulignons les luttes et les victoires des communautés autochtones contre l'exploitation interne des ressources des sociétés transnationales (STN), la guerre et la militarisation, et la dégradation de la situation des droits de l'homme en attaquant les défenseurs des droits de propriété intellectuelle et l'action collective pour la défense de la terre, du territoire et du mode de vie. Ensemble, nous amplifierons les voix et les revendications des peuples autochtones pour le droit à l'autodétermination. Renforçons notre solidarité et notre grande unité parmi et entre les communautés autochtones et les peuples opprimés ! Vive la lutte des peuples autochtones pour l'autodétermination!
(Traduit avec www.DeepL.com/Translator)