Advancing Development Effectiveness in Indigenous Territories: IPMSDL in the 1st International Dayak Congress
By Jiten Yumnam
Email: mangangmacha@gmail.com
The International Indigenous Peoples Movement for Self-Determination & Liberation (IPMSDL), the focal organization for the Indigenous Peoples Sector of the CSO Partnership for Development Effectiveness (CPDE), attended the 1st International Dayak Congress held at Pontianak, West Kalimantan, Indonesia from 24th until 26th July 2017. The Congress was organized primarily to discuss and converse among diverse stakeholders the advancement of the rights, indigenous cultures, way of life, and sustainable development among the Dayak people inhabiting the Sabah and Sarawak side of Malaysia and the West Kalimantan in the Borneo Islands. The IPMSDL delegates representing CPDE include Mr. Atama Katama, International Advisor of the Borneo Dayak Forum, Ms. Beverly Longid, IPMSDL Global Coordinator, and Mr. Jiten Yumnam, Secretary of the Centre for Research and Advocacy, Manipur. They shared the issues and challenges in realizing development effectiveness in indigenous territories.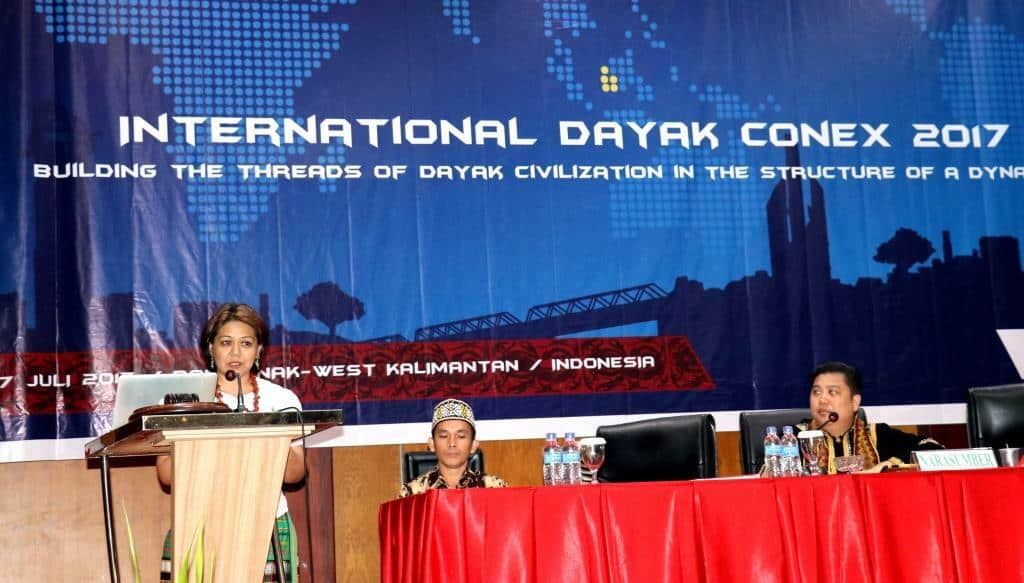 Ms. Beverly Longid, Global Coordinator of IPMSDL
IPMSDL organized a solidarity event on Development Effectiveness on 26th July which was attended by around 200 participants. Ms. Beverly Longid shared the history of colonization of indigenous peoples and their struggle and resistance for land, rights, and for survival. She also shared that the intrusion on indigenous peoples' land of mining, oil exploration, large infrastructure projects, and the subsequent disrespect of traditional customary practices, multifaceted environment impacts, corporatization, and privatization, have further negated their self-determination. Indigenous peoples land and territories are also subjected to increased conflict, instability, militarization, human rights violations, and repression of traditional institutions and organizations. Ms. Longid also stressed the importance of building solidarity among different communities, stakeholders, and sectors which are equally or similarly exploited like indigenous peoples.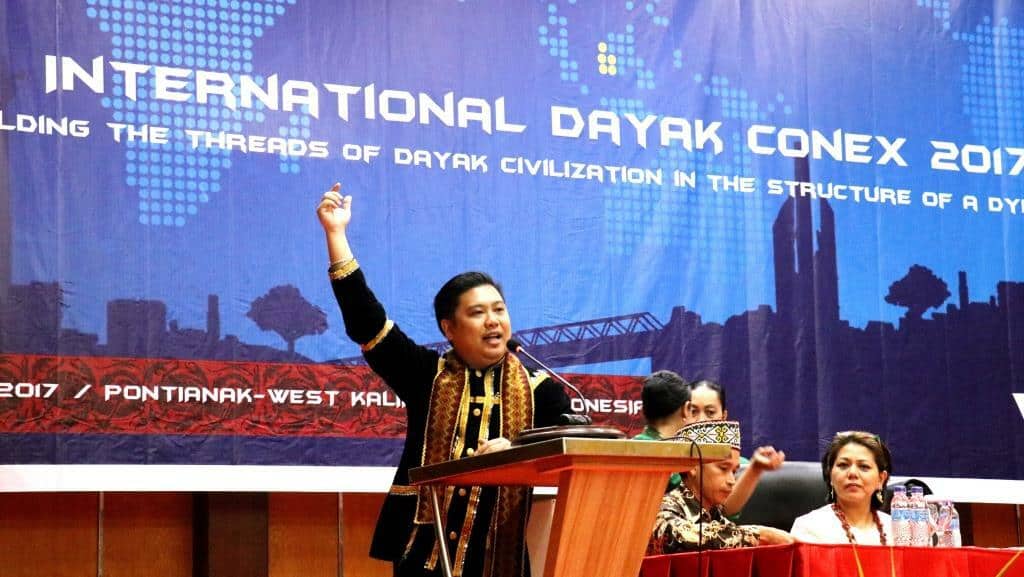 Mr. Atama Katama of the Borneo Dayak Forum and IPMSDL
Mr. Atama Katama of the Borneo Dayak Forum shared that indigenous peoples land in the Borneo islands, especially those in Sabah and Sarawak, Malaysia and West Kalimantan, Indonesia, are subjected to increased intrusion of multinational private companies pursuing oil palm and rubber plantations, as well as coal and mineral mines. He also shared that Free Trade Agreements and the insistence on liberalization over production for profit and privatization has seriously undermined indigenous peoples' rights in Indonesia. The Trans Pacific Partnership Agreement will further accelerate and reinforce monopoly capitalism in the Asian region and he stressed the need to uphold development justice.
The increased loss of land and forests to Palm oil plantations is worsening the loss of the Dayak peoples' culture, rituals, traditional knowledge, and livelihood dependence on healthy forest. The originality of knowledge that comes from traditional knowledge, customary laws, rituals, dances, knowledge about indigenous plants and food, traditional healing, etc. is really valuable for indigenous communities. The changing globalized world is often detrimental to the prevalence of such traditional knowledge and the sharing and exchange of knowledge among the Dayak people involving the youths to further enliven the living cultures and mitigate the threats and challenge. Defending the land and forest in Kalimantan, along with imparting indigenous knowledge among the Dayak youths, is one way of defending indigenous peoples' way of life and cultures and in asserting their self-determination over their land, lives, cultures, and future, and to resist imperialist globalization and corporate expansionism.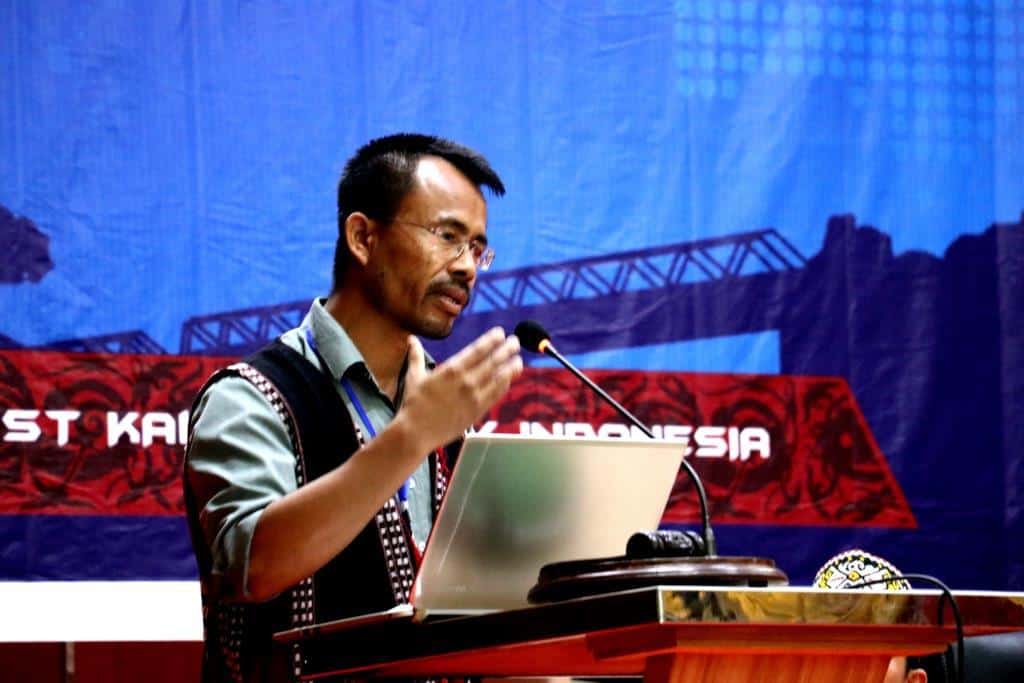 Mr. Jiten Yumnam of the Centre for Research and Advocacy – Manipur and IPMSDL
Mr. Jiten Yumnam of the Centre for Research and Advocacy, Manipur shared that unsustainable and destructive development projects have threatened the survival of indigenous peoples of Manipur and North East. The 105 MW Loktak Hydroelectric Project, the Mapithel Dam, submerged 80,000 acres of land. The Proposed 1500 MW Tipaimukh dam, 190 MW Pabram Dam, and others that are expected to rise, will submerge 60,000 acres of land. Enabling environment has been fostered for private sector functioning while restrictions and targeting of indigenous peoples and human rights defenders are increasing. Despite the global accord agreed in Busan HLM, many governments refused to recognise the independent role of Civil Society in development. States have worked against indigenous peoples' rights and organizations and denied their right to self-determination and to free, prior, and informed consent.
The IPMSDL event ended with emphasis on the recognition of indigenous peoples' rights and also for all stakeholders, the State, and the corporate bodies in particular, to uphold CPDE's key messages, viz, advancing human rights approach to development, promoting environmental sustainability, gender equality, CSO's Enabling Environment, private sector accountability, just peaceful & a secure world order, and an inclusive multi-stakeholder partnership towards advancing development effectiveness.
The CPDE delegates also propagated that the role of CSOs recognised in the Busan Principles is carried forward in all development processes. Multi-stakeholder partnership should not only be for Public Private Partnership (PPP) or for the profit of corporations.
The 1st International Dayak Congress was also an occasion for sharing of experiences among indigenous peoples and for exposure to indigenous communities affected and challenged by mono cultivation in West Kalimantan. A visit at Kampung Raba and Tapis Village in interior West Kalimantan by Mr. Jiten Yumnam was a testimony to the ruthless destruction of forest land by the ever-expanding oil palm plantations and companies like Hilton, and the negation of community rights over their land and forest. In another visit on 29th July in Tapis Village, village elders complained that oil palm companies like Hilton, Agrina, and SGC plundered their forest through forest land acquisitions in the most exploitative means. The palm oil companies also deceived the villagers and incited conflict among them. The Indonesian Government is also preparing to mine Bauxite in a sacred hill within their village land in Kampung Raba and a peripheral village. The sharing in the village reflected not just the traditional wisdom and sustainable land and forest management of indigenous communities, but also the role of the Indonesian State and the corporate bodies in misleading indigenous peoples, pushing them to the brink of survival, and subduing their cultures and tradition.
The importance of adherence to human rights principles and recognition of indigenous peoples' self-determination over their land and resources in all development processes of states, corporate bodies, and development financings is a message pervading in the congress and in the community visits. The promotion of indigenous way of life and sustainable management of land and resources with traditional knowledge and practices can foster sustainable development in Borneo. Ending forced development, establishing accountability mechanism for all development stakeholders, ending environment harm by unsustainable development projects, and rescinding all state effort and militarization to subdue indigenous peoples' voices for self-determination and their rights is critical for advancing development effectiveness in Indonesia and in all indigenous land and territories.