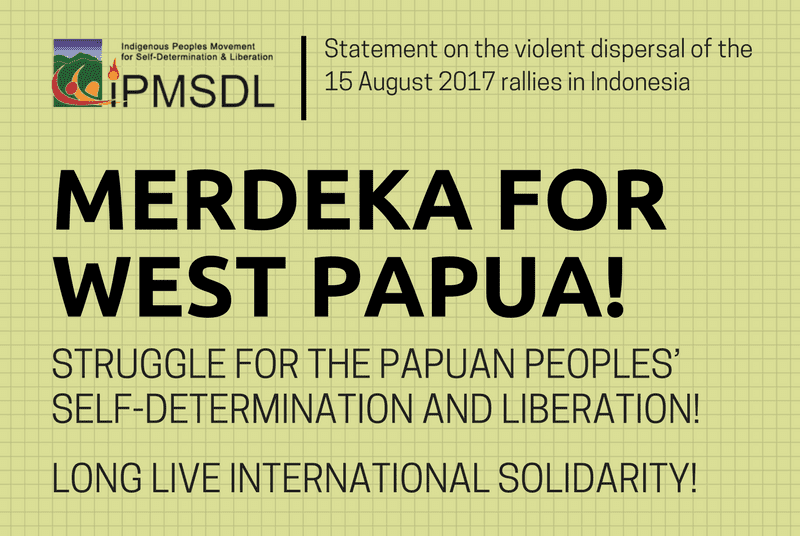 The International Indigenous Peoples Movement for Self Determination and Liberation (IPMSDL) denounces the violent dispersal of Papuans who rallied for their self-determination and liberation in Indonesia on the 55th year commemoration of the 1968 New York Agreement.
Indonesian police arrested and injured hundreds of rallyists on 15 August 2017 in several of the country's cities where the protests took place. The demonstrations, which were also held in United Kingdom, Netherlands, and Australia, called for a legitimate UN-administered referendum that would decide West Papua's independence from Indonesia.
Nonetheless, IPMSDL lauds the militant display of the Papuan peoples to assert for West Papua's independence. The Movement also congratulates the participation and leadership of the Papuan youth and students in the Indonesia protests. Oppressive states would easily wield repression against peoples' resistance, denying them their basic rights including freedom of expression and assembly – much like in Indonesia, in order for the government to maintain its hold over West Papua. In today's trying times, such daring actions give hope to the marginalized and other Indigenous Peoples worldwide to advance their respective struggles brought about by imperialist greed and domination.
We believe the interest and welfare of the Papuan peoples will never be of precedence if West Papua remains its colonized status. Thus, the Movement commits its fervent support West Papua's struggle and just assertion for self-determination and liberation versus Indonesia's national oppression and colonization.
MERDEKA FOR WEST PAPUA!
STRUGGLE FOR THE PAPUAN PEOPLES' SELF-DETERMINATION AND LIBERATION!
LONG LIVE INTERNATIONAL SOLIDARITY!